St
Peter (Reception)
CLASS TEACHER – Mrs H Reading
TEACHING ASSISTANTs – Mrs Sreenath & Miss Doel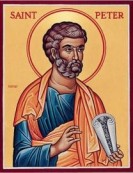 SAINT PETER
Died – Between AD64 and AD68
Feast Day – 29th June
USEFUL LINKS FOR PARENTS
Student Introduction to AR – Primary
Parents Guide to Accelerated Reader
CLASS NEWSLETTERS
 
WHAT ARE WE LEARNING?
Below you will find some useful information that tells you what our Reception children have been learning about throughout the past year here at St Peter's.
'Reception at St. Peter's is the foundation for the children's journey at school. The children will spend lots of their time exploring the classroom and learning through play. We are very lucky to have a fantastic classroom and outdoor space set up where the children can explore and play in the role play area, ride on bikes, take part in writing and maths challenges and make mud pies in our mud kitchen. Throughout the year the children will learn different topics such as 'Ourselves', 'People Who Help Us' and 'Under the Sea'. The children make fantastic progress in Reception with their reading, writing, maths and phonics is a big focus for the year. Each year Reception attend trips to Shortenills Outdoor Learning Centre and to Blue Reef Aquarium as well as other local trips. We strive to promote a love of learning and the children in Reception are always happy to come to school and be a big part of our school community'.
Please click on each document link (A new browser window will open)
Reception Welcome Meeting 2020
50 Science Things To Do Before 11 3/4
Child Friendly Remote Learning Handout
To learn more about the Early Years Profile follow this link: 
Wrap Around Care
Breakfast Club – 7:45am – 8:45am
After School Club – 3:15pm – 6pm daily
Marlow After School Club are our current pre and after school care providers which is located on the St Peter's School grounds, for more information regarding their fees and services please contact them on 07814275437 or masc32@hotmail.co.uk
STARTING IN RECEPTION
Before your child can start at school you must ensure that they are ready.
To establish what immunisations your child should have along with finding out other useful information that you will need to know to prepare for their transition into Primary School please click on the following link.
Admissions Policy